AU story with VampBuffy and Spike as a Slayer
Genre: Romance
Rating: PG
Warnings: None
Disclaimer: Buffy and Spike are still not mine, but they gave the inspiration for this fic, no profit made
Beta: Wonderful

petzipellepingo
, you rock!
Storyart: By talented

framedinlove
. I´ve thanked you in every chapter, and I do now too. Not just for the banner, but everything else too, I really hope you like where this story went. Love ya!
AN: So here it is, the final chapter. I can´t believe I wrote all this...I thank every one that has commented on this fic, you have given me the confidence to go on. Hope you have enjoyed this, I know I have.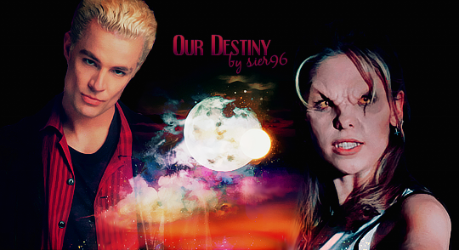 Chapter 9
Spike had never felt so good in his entire life. He watched Buffy as she slept, every now and then brushing his fingers over her skin. She still breathed in her sleep, making her look more alive than dead. He was happy that her pale skin would soon get some color. She would have the sun back, and it thrilled him to know it was because of him. He could give her back what that vampire and the Council had taken away. Spike felt her in his soul, completing him, making him whole. He kissed her on her forehead and whispered,
"Mine, forever."

"Yours Spike, gladly." She opened her eyes slowly, a bright smile on her face. She was about to kiss him when something else demanded her attention. She could see the sun shining through the blinds, and quickly got up to the window. Her hand shook a little when she pulled the blinds up and let the sun in. She closed her eyes, and few tears ran down her cheeks when she felt the warm sun on her skin.

Spike walked to stand behind her and hugged her to his chest.
"You have the sun again. Not just darkness for you anymore pet."
"It´s so warm. I had forgotten how it feels. You gave this to me. Thank you."
"My pleasure. What do you want do today. It´s Saturday, no work for me."
"Can we just go out for a walk, and have breakfast maybe?"
"Sure. Lets get dressed, and then we go out and have a bite to eat. How do you feel about pancakes?"
"My favorite breakfast! Did you just read my mind?"
"No, they are my favorite as well. You see, we really were destined to be together."

Half an hour later they were already sitting at the diner and before long both of them were devouring the pancakes.
"I hate to interrupt your pancake-fest Buffy, but do you think we should tell something to Giles? We usually talk every day, and he´s already wondering who helped me to dust those vamps."
"I suppose we could go see him after this. That way he will be deep in research quickly and not disturb us tomorrow."
"And what happens tomorrow, may I ask?"
"Beach."
"Beach? Just that?"
"Spike, I´ve had 22 year long break from sun, and I used to love the beach. I´m not doing anything un-beach-y tomorrow. And I´ll need someone to rub the lotion on me...Don´t want to get a sun burn."

A picture of Buffy in skimpy bikinis with him rubbing the lotion on her flashed trough Spike´s mind, and suddenly a day at the beach sounded absolutely perfect..
"Very well, we give him enough information to make him bury himself in books, and have our day on a sunny beach. You ready?"

Buffy nodded, last bit of her pancakes still in her mouth. After drinking some water she stood up.
" Yup,lets go."
"You know, the Valley Girl in you is starting to show already. Yup with a pop? My ears are gonna bleed when you get back on that track fully."
"And your talk? You sound like Merrick, and he was a Watcher, and like, old."
"Nothing wrong with my English kitten. We´ll have to travel to England so some of that will rub on you too."

Thought of traveling to England, or what the hell, anywhere with Spike made her burst with joy. The places they will see, Europe, Australia, South America. There were no limits. The whole world was open in front of them.

"Maybe it will. I can´t wait to travel with you. But we will probably have to wait, it´s pretty expensive to travel to another continent. I know I don´t have that much money. Jobs I have been able to take have not been too good money wise. But in time we´ll be able to go where ever we want, right? I mean I can have a better job now."
"You can, but you don´t have to. Five years ago the Council after a long persuasion started to pay a salary to a Slayer. And a damn good one too. I haven´t used that money at all, since I like working at the library. So I can take you anywhere you want to go. It´ll be like a honeymoon. What do you say?"

*Spike, sex, honeymoon, beach, sun, ocean, drinks, some more sex...* Buffy´s mind jumped on that so fast that it shouldn´t have been possible. *And where would I find all those?*
"Hawaii. I know it´s really cliche, but I have always wanted to go there. And it has everything I want in a honeymoon. We can fly to England like next year. Is it OK with you? We don´t have to go to Hawaii if you don´t want to."
"I really don´t care where I am as long as it´s with you. Always with you."

They had been walking slowly towards Giles´ apartment, but now Buffy stopped to look at Spike in the eyes. He looked stunning in the bright sunlight, his bleached hair seemingly golden, shining blue eyes looking at her with tenderness and loyalty. He would never leave her. Never. To Buffy that was precious.

"Always. Never again alone, I thought that was something I would never have, and now here I am, with you. My mate. I have everything I want right here."

If there ever had been a perfect moment this was it to them. Just standing in a street corner looking at each other, traffic noise humming in their ears, sun bathing them in light. Together. Being like any other young couple while they knew they were anything but ordinary. No words needed to be said, they felt it all. They could go anywhere and still be at home, and that thought made their broken hearts become whole again.

Holding hands they walked rest of the way to Giles´ place, one word swimming in both of their minds. Love. They didn´t say it out loud yet, but it was building there. Soon there would be words to go with the feeling. Right now they had a Watcher to see.
Looking into Buffy´s eyes Spike took a calming breath and knocked.
The door opened and Spike suddenly found out that he didn´t have a soddin´ clue where to start, really.

"Hi Giles. Good to see you. This -- this is Buffy. We wanted to talk to you about -- something. I mean...Giles, how do you feel about destiny?"
LOPPU -- THE END